Do You Have a Project We Can Help With?
Over 80 Years of Metal Spinning Experience
Steel Spinnings was founded in 1930 by the grandfather of the current owner. Since then, we've moved home a few times, hired some of the best metal spinners around, and even had our moment of fame on television.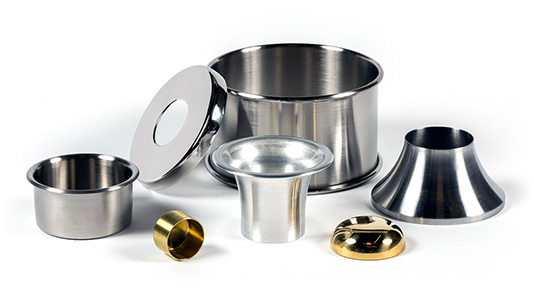 Family Run, Customer Driven
Steel Spinnings is, and always has been, a family-run business. Together, our passion for metal spinning enables us to take a component design from rough sketch to manufacturing reality.
Customer Reviews
★★★★★

"I am the buyer for Eaton Aerospace. I've worked with Steel Spinnings for a number of years. Their quality and on-time delivery is excellent. One of my best suppliers."
"We gave them quite a task to achieve of which they did to the highest of standards. Their quality has been excellent. They are very approachable and offer their expert knowledge."
"It's comforting to know that there are at least some suppliers left in the country that put their customers first and can actually deliver a promise on time."
★★★★★

"Great service from Steel Spinnings. Good product, on programme and budget. Great communication and are a pleasure to deal with. Thank you, David."
★★★★★

"My experience with Steel Spinnings is excellent. We have had good cooperation for many years, and we are fully satisfied with the part quality and delivery performance."
★★★★★

"I was highly satisfied with the efficient, friendly and first-class service. Quotations were dealt with quickly and final products completed to satisfactory levels and received to fit in with our production schedules."
★★★★★

"Steel Spinnings shares Fracino's commitment to consistently deliver a great customer service and our two decades plus relationship with the team is testimony to their breadth and depth of technical expertise"
★★★★★

"The quality of products is excellent and we have formed a friendly working relationship. I have no hesitation in recommending them for future business."
★★★★★

"I would certainly recommend them to take you from initial sampling of products to the finished item, no matter how long that takes. They offer a fully comprehensive service of which they should be proud."
★★★★★

"Steel Spinnings is a highly reputable company, with very good customer services and competitive pricing. Steel Spinnings pride themselves in producing high-quality products at affordable prices."
★★★★★

"I have used Steel Spinnings regularly for nearly 20 years, and in all that time their service and quality has been excellent. I do thoroughly recommend them."
Trusted by Businesses World-Wide
Join a growing list of businesses and brands benefiting from our manufacturing services.
Got a component or project you'd like us to quote for? Complete the form below and a member of our team will be in touch within 24 hours to discuss your requirements.